Everyone knows that fans of the REAL "America's Team" are EVERYWHERE…
The Cheddarhead Pack of Houston became the vision of just such fans who met each and every week at a local Houston establishment to cheer on the Packers during the 1997 season. Following the Packers' appearance in SuperBowl XXXII in 1998, the vision came to life and a fan club for the NFL's most storied franchise was formed. From that original fan base our membership has grown and our club has expanded to four locations!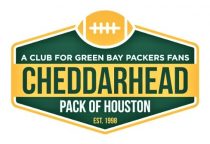 CHPH is governed by a volunteer committee of its membership who meet regularly to constantly build on our foundation. Our Mission: To provide a home for Green Bay Packer fans to meet and share in the excitement of Packer football not only during the season, but throughout the year.
We welcome family participation to increase camaraderie, and of course, have the most fun possible while practicing the Packer traditions.
Although we're some 1200 miles south of Green Bay, you would never know it. We try to recreate the Lambeau atmosphere and ambience (minus the cold and snow) with Johnsonville brats, German potato salad, blackberry brandy, polka music and "Lambeau Leaps" as part of our game day routine. In addition, the UW Marching band's rendition of "On Wisconsin" and "When You Say Wisconsin," as well as "Cheesehead Baby" and "The Bears Still Suck" are customary tunes on game day. Before kick-off the club faces the North and recites the "Wedge of Allegiance" and, just like at Lambeau, each game starts with "Are You Ready to Rumble?" At half-time we have "The Packer Prayer," and $1 raffles for various Packer merchandise such as mugs and autographed memorabilia run each quarter to add to the excitement. And of course, it wouldn't be Wisconsin or the Packers without tailgates!
In acknowledgment of our strong fan following and presence, Packer players as well as the organization have donated autographed memorabilia and other related items to help us raise money to support our club activities. We boast nearly 1200 members of all ages and organize road trips to follow the Packers, whether it be in Green Bay or "on the road". In support of our membership and Packer fans everywhere, we supply this website and maintain regular contact through "CheeseMail" emails and a quarterly CHPH Newsletter. And although we're a Packer fan club, all football fans are welcome to watch and be a part of the festivities.
We organize off-season events to keep the CHPH family together. We make a number of group outings, such as an annual Astros game, the Texas Renaissance Festival, the Packer Party in the Park Picnic, bowling get-togethers and of course, our infamous tailgate parties.
This past spring we organized and ran a major benefit for one of our members, and have made a presence in the Houston community with such charitable acts as the Adopt-A-Highway program and donations to area shelters.
This is what CHPH is all about – come join us and experience Green Bay South!